Fall protection requirements
Identifying fall hazards involves recognizing any work process, activity or situation with the potential to cause injury or harm to a person due to a risk of falling when working at heights. The hazards must always be identified, risks assessed, and the proper controls put in place prior to starting work and when changes to work activities are planned or occur. Use the Job Hazard Analysis (JHA) template (Word) to identify hazards and controls to manage the risk of fall hazards.
The five levels in the hierarchy of fall protection controls are listed below.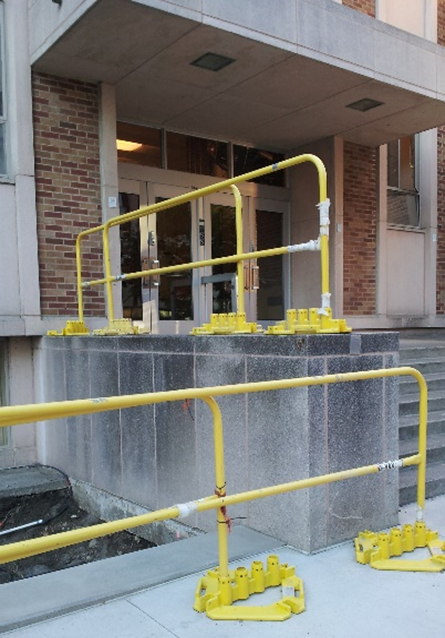 Hazard elimination is the first and best control to protect employees from fall hazards. The controls in this list are progressively less protective, with Administrative Controls being the least protective.
Hazard Elimination: Evaluating the design to eliminate fall hazards or changing the task, process, controls, or other means to remove the need for any employee to be exposed to a fall hazard.
Passive Fall Protection: Fall protection that does not require the wearing or use of personal fall protection equipment. An example is a guardrail system.





Fall restraint system




 




Fall arrest system on horizontal lifeline




Fall Restraint: The technique of securing an employee to an anchorage using a full body harness and lanyard short enough to prevent the person's center of gravity from reaching the fall hazard.
​​Personal Fall Arrest System: A system comprised of, at a minimum, an anchorage, full body harness, lanyard, and connectors used to arrest an employee from free falling more than six feet in a fall from an elevated level.
Administrative Controls: Employer mandated safe work practices or procedures that prevent exposure to a fall by signaling or warning an employee to avoid approaching a fall hazard. Examples include warning lines and safety monitors.